Salvage, Recycle, Re-purpose, Sustainable
Free local delivery! Shipping available throughout the United States!
Rustics By Design Door County – Andrew and Jillaine Seefeldt
Salvage, Recycle, Re-purpose, Sustainable
Our mission is to provide our customers with a sustainable product using local resources that find a new life in our artful and natural furniture. Both dead or fallen trees and historical lumber are available for use. Andrew reclaimed a local barn dating back to 1916 so not only do we have interesting wood, there are fun metal artifacts as well. They often collaborate on design and Jillaine will bring her expertise in on color and finish. We work as a team to construct, fabricate and finish each piece either for sale or made to order to your measurements and style needs.
For the past 3 years, we have created many kinds of tables, desks, cabinets and even a platform bed set! We have also done projects for restaurants, bars and even our local Northern Sky Theater. You never know what we might try so don't hesitate to ask and bring us your ideas!
Check out our gallery below. It is broken up into 5 sections, each section will open up it's own gallery once you click on it, so you can see for yourself the craftsmanship we provide with every piece we create.
We are teeming with new ideas so take a moment to browse what we currently have for sale, ready to ship or pick up from our Egg Harbor location.
Historical and Natural Lumber
Andrew has salvaged much of a 1916 Door County barn from siding to structural beams and posts. This wood ranges from hemlock to pine, oak and maple. In addition, he has live slabs and boards available in Black Walnut, maple, Beech, Locust, Birch, Poplar and Cherry. Contact Andrew at 920-242-1905 to inquire about specifics and pricing.

How to get your own signature piece ...
Please click on "Details" to fill out the initial contact form to let us know what kind of personalized piece you would like.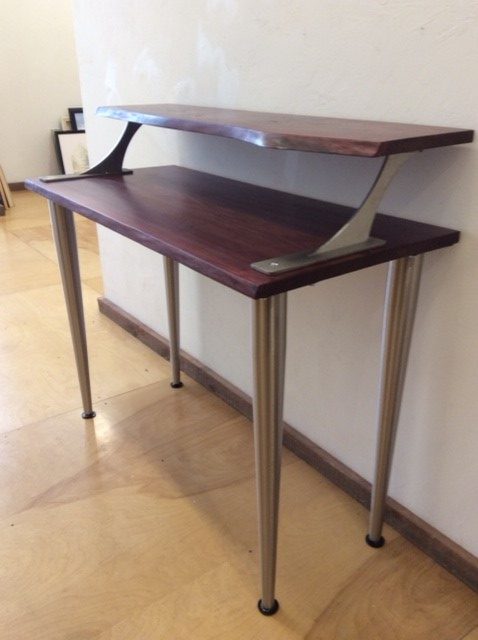 "What a joy it was to eat our first meal at our new table tonight,  It is absolutely so beautiful and we imagined it at the end of the month when all of our family will be around it.  We thank you for the quality and beauty of it, knowing the labor that went into it….we are grateful for the care and craftsmanship that…"
Rachel and Dave
"Hi Jillaine and Andy!
We love the ottoman trays that you made for us-perfect!! Thanks so much! "
Claire and Gary
"I love my new coffee table!!!
Rob D.
"Beds all made and ready for visitors! Love them!!!"
Joanie and Dave
"Thank you so much, the table is beautiful, love it!"
Claudia
"We are loving our bar. What a great addition to our cabin. Judi is thinking of commissioning a table next year."
John
Free local delivery! Shipping available throughout the United States!
Do you have an idea for a custom piece of furniture that you would like us to design and create for you? Tell us more about your idea and we will be in touch to discuss it further!
Address
6746 County Rd G
Egg Harbor, WI
Contact
920.629.4877
magic@woodwalkgallery.com
Visit
Available by appointment only